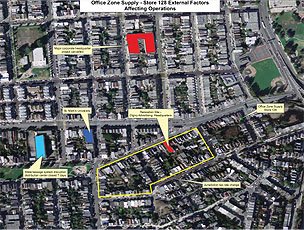 Corporate Profile
MISSION
At Synthegis, our mission is to help companies visualize the critical relationships between business information and location so they can unlock their full strategic potential. With three-dimensional, map-based visualization of corporate information, our technology offers unlimited strategic possibilities.
CORPORATE PROFILE
Founded in 2004, Synthegis provides location intelligence solutions to the retail, financial services and restaurant industries. Synthegis' integrated portal combines existing GIS and business information with proprietary predictive analytics for a customized three-dimensional view of your operations.
Synthegis is privately owned and headquartered in McLean, Virginia.
Company:

Synthegis, Inc.

Headquarters:

1616 Anderson Road
McLean, Virginia 22102

Telephone:

703.599.3239

Fax:

703.286.0888

Email:

Founded:

2004

Industry:

Location Intelligence Solutions
Data Visualization

Services:

Decision Support Software
GIS Consulting Services

Markets Served:

Retail, Financial Services and Restaurant Industries

Ownership:

Private