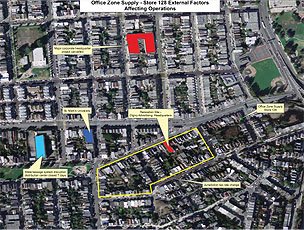 Management Team
Synthegis' management team is led by dynamic individuals with deep expertise in technology, business and GIS to enable us to achieve our strategic vision.
Meet the team:
Anita Fourcard, CEO and Founder
Brian Bazer, Vice President, Retail Operations
Dr. Sergei Andronikov, Senior Director, GeoSpatial Technologies
Eric Michel, Senior GIS Programmer
Susan Harris, Director, Marketing & Sales
Anita Fourcard
CEO and Founder
Anita Fourcard founded Synthegis in 2004. She brings more than 15 years' experience developing software, identifying new market and customer-segmentation strategies and performing competitive analysis to Synthegis. Fourcard has served in management roles at Telcordia Technologies, Inc./SAIC, Lockheed Martin IMS and GTE Communications Corporations. She holds a B.A. and an M.B.A. from Louisiana State University.
Brian Bazer
VP, Retail Operations
With more than 20 years of retail experience, Brian Bazer was formerly the director of performance management for Best Buy, where he was helped establish its Customer Segmentation Transformation initiative. Before joining the company, Bazer served as regional director of sales and operations for Sam Goody. He has held operational management positions with several retail chains, including IKEA and JC Penney. Bazer holds a B.S. from Pennsylvania State University and has completed graduate coursework at the University of Michigan Business School.
Dr. Sergei Andronikov
Senior Director, Geospatial Technologies
Dr. Sergei Andronikov brings more than 30 years of international GIS technology and expertise to Synthegis. Most recently he served as the director of the GIS Center of Excellence at George Mason University, where he developed geospatial technological solutions to key strategic problems faced by different agencies and governements. Andronikov is also an associate professor in GIS.
Eric Michel
Senior GIS Architect/Programmer
Eric Michel comes to Synthegis with extensive knowledge and experience in GIS, Global Positioning Systems, database management and application development. He is the director of Science and Geospatial Applications at Conservation International, where he is responsible for enterprise-wide science and geospatial information management solutions. Before that, Michel worked as a GIS specialist at Teligent, Inc., and Louis Berger and Associates. He holds Bachelor's and Master's degrees from the University of Toledo.
Susan Harris
Director, Marketing & Sales
Susan Harris brings 15 years of sales experience to Synthegis and is responsible for overseeing the organization's customer sales channel and market research team. Her focus includes direct customer interaction and matching customer strategy to the life cycle of the company.